Skip Hire Barry – Discussed By Caerphilly Skips
Skip hire in Barry – What you should know!

Hiring a skip nowadays is a very simple process, with more and more pop up companies offering skip hire at low prices. The problem however finding the best provider since there are some that don't offer such a comprehensive service, and will end up fly tipping your waste which could come back to haunt you. If the company folds, there are some scenarios where the owners of the waste end up having to pay for the clean up. This is an incredibly unfair outcome, as most of these people didn't know that the company they chose was below board. However, some local authorities may see it as such, and will still hold whoever disposed of the waste accountable.
Booking your skip from a company like Caerphilly is as easy as giving them a date and time that you'd like you would like your skip dropped off. They need to know what size of skip you require or at least your intended use as they'll be able to find the right size of skip for you. You can usually keep the skip on your property for as long as you need it since the skip hire provider won't know how long you intend to use it for. Once the skip is full, you just need to give the skip hire company a few days notice from when you'd like the skip collected, any they'll dispose of the waste you've thrown out!
It's a general rule that skips cannot be collected when they are overloaded. Skips should not be loaded any higher than the walls of the skip, as this would count as overfilling. If the skip has been overloaded, the skip hire provider reserve the right to "level" the waste that is exceeding the limit, making sure that the skip is safe to transport. We at Caerphilly have seen people trying to get out of this by putting a cover over the top of the skip however this won't fool the skip hire company as any waste that is jutting out of the skip will cause a huge public hazard to the pedestrians and motorists whilst the skip is in transit. Personal who are collecting your skip have the right to refuse skip collection if the skip is deem overfilled and unsafe.
Throwing away waste/rubbish is one of those jobs that we all want to avoid since it takes a lot of time and is an incredibly annoying job. Whether we're working in a commercial setting or we're just clearing out our homes, the trip to the local dump is awful regardless of who you are!  Unfortunately, waste disposal has to be done correctly if we wish to live in a clean and sanitary environment! Caerphilly Skips helps make discarding residential, commercial and industrial waste materials much easier. Using our full range of skips, delivered to your doorstep, you have the perfect option for local Skip Hire Barry.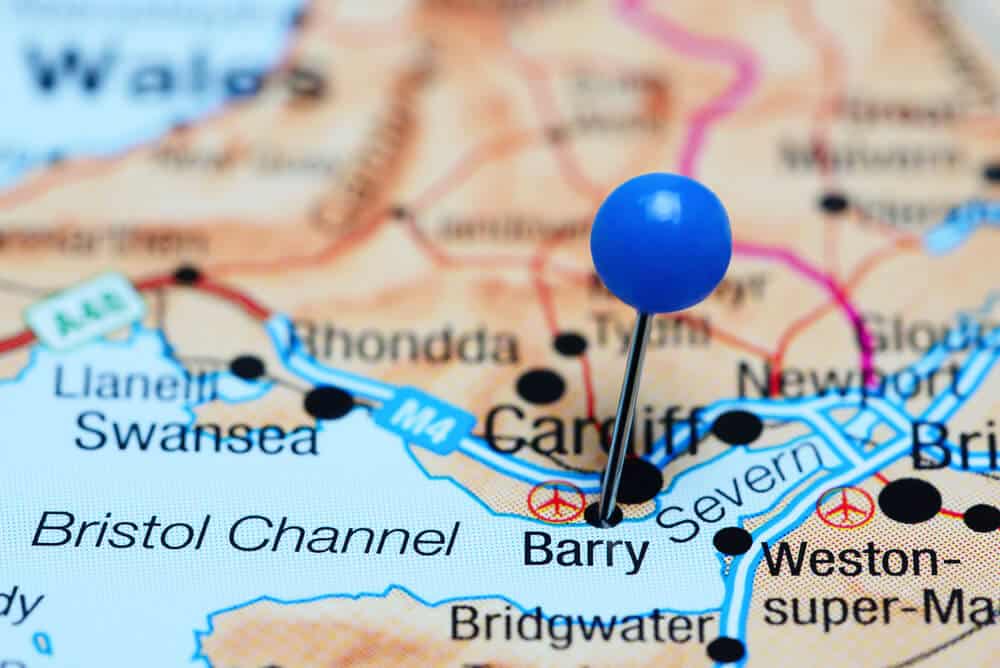 Caerphilly offers a range of products and services that cover a wide list of locations such as Cardiff, Blackwood, Caerphilly and adjacent areas. Our clients, both commercial and domestic are our number one priority since it's our customers that make up our business. We are a leading provider of skips in the Barry area, providing the best skip hire service in South Wales. For reliable and affordable skip hire call our team on 029 2086 2328 or visit our website – Skip Hire Barry for more information about our services.
Skip Sizes – Skip Hire In Barry
People are going to have unique needs when it comes to why they need a skip. This is why Caerphilly offer such a wide range of skips since we want to have something that applies to any situation regardless of what it is! We happily accommodate domestic, commercial and domestic customers! We have a list below of our skip sizes so you can hopefully find something that suits you!
2 Yard Skips – Skip Hire In Barry
A 2-yard skip is the ideal type of skip for something like small home renovations or even garden clear outs. It is also suitable for moderate renovations in your house. 2-yard skips fit a regular driveway and are very reasonable in both cost and overall size meaning you don't have to obtain an on-road permit for your skip!
4 Yard Skips – Skip Hire In Barry
A 4-yard skip is great for a larger domestic project like a kitchen renovation since it takes twice the amount of waste as the 2 yard. 4 yard skips are great for bathroom renovations too as we've found a lot of customers gravitating towards the 4 yard when they inquire about a home clear out.
8 Yard Skips – Skip Hire In Barry
Often known as the builder's skip, the 8-yard skip is great for both large domestic and commercial jobs. With its name, it's ideal for those in the construction industry for smaller jobs since you're able to store a decent amount of waste in them. With the 8 yard skip, you may have to arrange on on-road permit since it's a bit too big for most driveways/private land. If that's the case, then the guys at Caerphilly help arrange a permit with no commission charged, so you aren't paying more than you have to!
12 Yard Skips – Skip Hire In Barry
Titled the Maxi-skip, the 12-yard skip is fantastic for large items like furniture and lots of waste materials from domestic or commercial projects. We arrange on-street permits for our customers as we would with any other large skip, but we don't charge commission on top. This means you aren't paying extra for something that you shouldn't be! We help you save time and money, rewarding you by enquiring with Caerphilly Skips
Roll-On/Roll-Off Skips
This is the best skip for any big building project, site clearance and extensive home remodelling. Being the titan of skips, these are designed for a huge amount of waste, or for long-term waste disposal. Caerphilly Skips provides a permit for this size of skip for on-road applications
Unique Skips
These include easy load skips and covered skips. They are designed to match particular preferences for example level of privacy, safety as well as the simple filling for major objects. They come in all sizes in spite of their unique design and style.
Our skips can be hired long- term, short- term or wait and load dependant upon your requirements. If you need a permit to keep the skip on the highway, Caerphilly Skips will help with this at no extra cost.
For fast, less expensive, effective and professional Skip Hire Barry, contact Caerphilly Skips on 029 2086 2328
Why use Caerphilly Skips for skip hire in Barry?

With a rich experience in the waste management industry, Caerphilly is a leading provider of skip hire offering unparalleled services. Caerphilly Skips offer leading skip hire in Barry, taking emphasis on how we provide our service and the quality of our service.
When you think about waste management, you don't think about choosing the worst provider possible, so why would you go for the cheapest straight away? Cheap companies often operate under false pretenses and usually dump their waste illegally which cuts their costs. Companies like this are looking for cheap and easy jobs which is why they are often so keen to take any job they can get.

Every provider that is dealing with waste in the form of skip hire must be registered with the Environment Agency that governs the disposal and management of waste. A reliable skip hire provider should and will be registered as well as understanding their obligation for the safe transportation, transfer and disposal of waste. Being regulated by the Environment Agency means that the company are obligated to safely transport hazardous materials like tyres, freezers, fridges or anything that may become a hazard. Anything containing hazardous liquids like oils, lead batteries or even poisionus substances need to be taken care of.
With Caerphilly Skips, you're getting a premium service at affordable costs. Any premium you are paying is for the reliability and the professionalism of our service. We operate fully above board making sure our waste is collected and disposed of properly. We don't hide behind hidden charges and commission, as we offer a simple service that is transparent and approachable. We don't even charge commission on road permits for your skips, making sure we're able to give our customers the easiest skip hire solution possible.

Our services are prompt, reliable and our workforce is highly trustworthy and efficient.
The prices we offer our services at are the best in the market. No other skip hire even comes close!
Our skips are environmentally friendly, and the emissions are under check at all times.
In most of the bookings, we provide you with the same day delivery.
3. Wait & Load Skip Service
If you haven't got the space to store a skip on your property without causing an obstruction to the general public then a wait & load service might be ideal for you! If you live in an area where a off-road skip isn't feasible then a wait & load skip is incredibly useful, since you're able to remove the need for storing a skip. Caerphilly Skips offers a reliable wait and load service whereby our driver will provide the skip and stay with it while you load your material. This way you do not have to have dedicated room for the skip because it doesn't leave the truck and is taken away promptly. In addition, it helps save the hassle of acquiring a permit which costs about £65. Nevertheless, additional costs may start amassing following sixty minutes of waiting around. This service is best suited if you are ready and available to load the skip. In under one hour, your waste material or rubbish is taken away without having to have a skip on the road or driveway.
4. Recycling
Caerphilly Skips understands that not every waste products have to go to the landfill; specific things might be recycled and reused. Our skips have sufficient space for your recycling preferences and if required we'll offer an enclosed skip to shield your belongings. We will not mind providing you with all the time you might want to recycle. In this day and age, recycling has become more of a focus in order to reduce the impact that we have on the environment, so if you are able to recycle some of your waste then you are free to do so.
5. Commercial Skip Hire in Barry
It Is very difficult to know what sort of skip one requires. Should you have a huge load of waste matter, you might need a large wait and load skip that will take care of that. However, if you simply have got a tiny load, a compact skip will be enough. At Caerphilly Skips we have all sizes and types of skips to deal with your business oriented preferences. We deal with all the permits for you and for those who have limited space we supply wait and load service to help save the hassle and inconvenience associated with a stationed skip. Our company is experts in this industry and will know exactly what to supply you with as soon as you call us.
At Caerphilly Skips, we know how important it is for workers to keep downtime to a minimum. This is why we provide you with fast products and services that will ensure your time isn't squandered. Commercial customers can also have the benefit  This makes sure there's no downtime in between shipping. With years of experience in delivering skips to a lot of clients in South Wales, we realise what people want just by listening to them. Through years of working with a variety of different customers, with varying needs, we have begun to understand what our customers need. Saying this, there are also times that you may have a unique requirement and we will endeavour to meet this every time. The best thing to do is to have a discussion with one our highly professional and polite team, so we can point you in the right direction. If you are still interested after this conversation then hiring the skip is incredibly simple after this.
Our skip workers are professional, well-mannered and focused on their work. We exceed expectations what is desired by us, to make sure customers are pleased and satisfied. With our several sizes and types of skips, just about every need for your skip hire requirements is met without fail. We have reasonably priced prices, and you will find no concealed service fees beyond the arranged charge.
Choosing Caerphilly Skips
So why should you choose Caerphilly Skips? If you are just moving into your new property, or perhaps you are clearing out your property before moving. Time is often a huge factor. This is why it is essential to choose a company that is reliable and on time. At Caerphilly Skips, we have built up an incredible level of expertise and credibility over the years. This is why our customers are so satisfied with the service and would recommend us to their friends and family. Make sure to check out our reviews to see what our customers are saying about the quality of our service.
The Skip That Is Right For You
Depending on what you need your skip for will usually determine what size skip you require. If you are unsure on the size of skip that you require, our team will be able to point you in the right direction. Make sure to contact our team today and we can provide you with free and impartial advice.
The skip you need
What do you need a skip for? What you need it for will tell us what skip sizes is best for you. Extensive home renovations might need a maxi skip, while landscaping your garden may only need a midi skip depending on the size of your garden. But don't worry, because you'll be dealing with the experts directly, and we can help you make the best decision. Our skips are well suited to both garden and household waste. If you are carrying out any renovation work in your home or even if you are clearing out your garden, a skip can be an ideal solution to removing any waste quickly.
We understand that a skip can sometimes take up a large amount of room, some people may be able to store their skip in their driveway, but in the event that you are unable to, we are able to arrange an on-street permit.
Should you be in the market for superb skip hire and recycling service from Caerphilly to Cardiff and all over South Wales, Caerphilly Skips is the place to go. Give us a call now on 029 2086 2328 or visit our website – Skip Hire Barry to read more.